Tooling Plate vs Aluminium
Published: 23/05/2018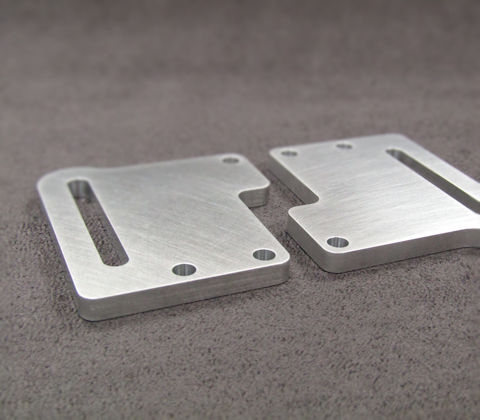 Aluminium tooling plate has some advantages over normal aluminium plate or bar.
It is supplied polycoated on both sides which protects it during cutting and transportation prior to machining.
It is stable when machined, even if large areas are machined away little, if any distortion is found when compared to normal aluminium.
Stock is supplied flat to +/- 0.13mm.
Stock thickness tolerance +/- 0.1mm.
It is available in thickness from 5mm - 100m.
Below are prices obtained on 21/05/18 for comparison:
12mm Thick 300mm Square
Aluminium Tool plate £16.00
Aluminium 6082 £13.00
20mm Thick 300mm Square
Aluminium Tool plate - £23.50
Aluminium 6082 - £21.50
Although the aluminium tooling plate is more expensive, the extra cost is often saved with lower machining costs as distortion does not need to be allowed for.
Machining, drilling and tapping are the same as when performed on normal aluminium.
But, there are a few potential disadvantages:
It does not have the same tensile strength as other aluminium alloys.
Clear anodise will look often look darker compared to normal aluminium.
We're always happy to advise our customers on which material is best for a particular component. To find out more please contact us.